Hello all,
My name is Ross and I make ocarinas under the company name Oberon Ocarinas
Im currently in the Connecticut area of North America and I mostly make 12 and 11 hole ocarinas.
My work is mainly influenced by Toshikazu Matsumoto (松本としかず), Hisashi Kayama (火山久), Cantare, Sojiro (宗次郎), Maruyama Kinzo (丸山 金造氏), Giorgio Pacchioni, Kuolong Pan (Takashi) and Hiromichi ocarinas (ヒロミチ).
here is a little bit about my currently available ocarinas. Pictures and sound clips will be updated shortly! (ps- each thumbnail is expandable, so please click for a larger image) I apologize for the strange layout in advance, Ive no html or layout skill whatsoever.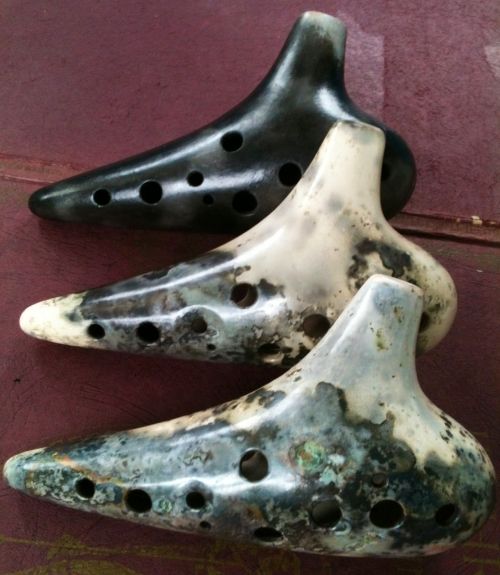 -The voice of an Oberon Ocarina is designed to have the tonal qualities of both Italian and Asian ocarinas.
-12 and 11 hole ocarinas are crafted with performance in mind and as such have a fully executable range, from the first to the last notes in the scale. 12 hole ocarinas have a range from A3~F5, while 11 holes start from B3.
-The ocarinas are made from lightweight but strong earthenware clay to reduce fatigue when playing long passages. A secondary benefit for this clay type is that it is easier to warm up when performing in cold conditions.
-These Alto C ocarinas feature a firm breath requirement with a gradual increase when ascending the scale. The high end of the range has been designed to reduce pressure sensitivity, giving the musician peace of mind from tuning woes or squeaks when playing with other instruments.
There are no restrictions on subhole placement and you may chose anything that is most comfortable for you.
As standard, some styles include:
Type 1: Japanese (ie- Tiamo)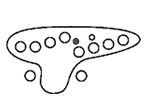 Type 2: Taiwanese (ie- Night)
Type 3: Aketa style
please note- the above subhole images are property of 'ocarinahouse.web.fc2.com'
*in some cases, ocarinas have a tuning hole. This is not a tone hole and is not considered as a functional subhole.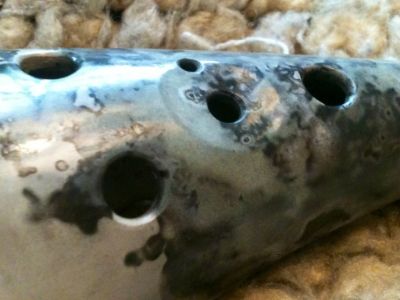 Oberon ocarinas have something that is slightly atypical of normal 12 hole ocarinas. The right hand position has a partial bevel for the subhole. It does not extend entirely around the subhole but stops just short of the edge. The subhole itself is located on a curvature of the ocarinas body, which prevents accidental use by finger overlap from the parent hole. The partial bevel simply allows greater ease to slide the finger to reach the subhole and reduces concern when not utilized. The left hand position does not require such a feature due to the curvature of the body where it is located and is thus omitted.
Additionally, implemented only for the right hand, the thumb hole position for high E has a more pronounced bevel. This is used do accommodation the rotation of the thumb when playing the ocarina in various positions without accidentally exposing the edges of the hole, which would can occur with some ocarinas.
-
Available finishes and pricing
-
all ocarinas are stone burnished, polished and sealed with a non-toxic, vegan sealant to protect the porous clay from dirt and oils unless specified. Shipping is not included.
White clay, Red clay (coming soon)-
Red or white clay ocarinas are sealed as are all oberon ocarinas, so dirt and oil will not stain the finish.
Smoke fired white or red clay (coming soon)-
some examples of intense and subtle smoke firings:
Saggar fired ocarinas (white clay only)-
B
all ocarinas are sealed with a vegan, non-toxic sealant. This keeps the pores of the ocarina sealed from dirt and oils and additionally prevents saggar and smoke firing effects from fading due to exposure. The finish is water resistant and exceedingly so, but please do not submerge or wash your ocarina as it is a low fired earthenware and over time the sealant, like many other lacquers and varnishes ocarina makers use, will dull with overt amounts of exposure. If such problems occur however, I'll be more than happy to re-seal the ocarina for you (less the cost of shipping)
These ocarinas are hand made instruments. Please understand that slight variations may occur and that no two are exactly the same. The finish style and intensity is unpredictable as well, but I will do my best to provide and excellent ocarina all the same
Current models are Alto C with a round voicing, requiring no special techniques to execute the entirety of the range of the instrument.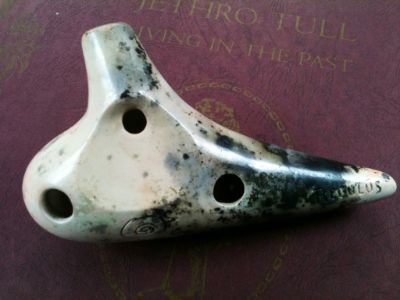 Additionally, all ocarinas are tuned accurately to 440hz and are guaranteed by the maker to perform with utmost excellence. If you are unsatisfied for any reason, please do not hesitate to write me.
serial cataloging via naming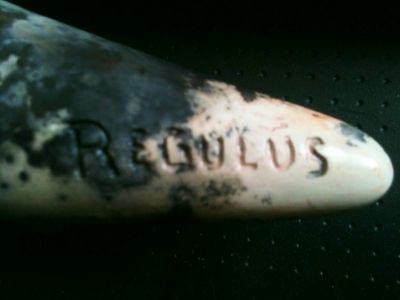 Each ocarina has a name which is given for a few reasons:
-The name is a sort of serial number for each ocarina. When an ocarina is made and sent out, the recipients is cataloged with the ocarina, which includes noting of the original owner and date of creation.
-Though I strive to make each ocarina as consistent as the next, hand made ocarinas will always have subtle variances as well as finishes, and this makes them unique. Naming them makes it easier to distinguish each ocarina's traits at a glance for future reference.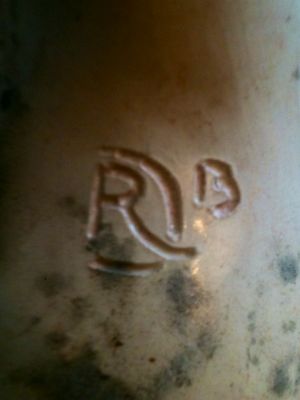 *please note that a saggar or smoke fire result is final as long as it is of outstanding quality. I cannot control the precise outcome in the chaotic art of saggar firing but I will do my absolute best to ensure a stellar ocarina.
sound clips:
Sample 1
Sample 2
Sample 3
(I apologize for the quality of these clips as they were recorded and uploaded via iphone. Better samples on the way!)
If you have any questions, please feel free to contact me
Im alway open to talking about ocarinas and their construction and will answer questions the best I can.
UPDATE: As of today, November 29 2016, I will not be accepting personal orders for ocarinas. Our studio is under construction, but after we return Ocarinas will be listed for sale as they are produced.