Making an Ocarina using a Mould
by Jade Everett
This tutorial is based on my preferred method for constructing ocarinas - longitudinal assembly in a mould (a principle invented by brothers Ercole and Alberto Napoleone Mezzetti in the nineteenth century). keep in mind that there are many ways to make an ocarina (no two ocarina makers use exactly the same method) and the process described here is my personal variation. As you continue making ocarinas, you will most likely find your own preferred way of doing things, which may suit you better than what I recommend here, so always keep an open mind and be creative.
It is always recommended to absolute beginners to start off by handbuilding a few ocarinas from scratch, before committing to making a mould. This gives the experience of handling clay (if you have none prior), an opportunity to develop the desired shape of your ocarina, better understanding of the workings of an ocarina, and time and experience needed to decide whether or not to bother with making ocarinas at all. Only once you have grown utterly and completely sick of handbuilding (as i did), should you start thinking of making a mould if you want to continue. I find making moulds very tedious, but their benefits far outweigh the inconvenience of constructing them. Using a mould, you will waste no time forming the ocarina shape and, of course, every ocarina you make will be of consistent shape and dimensions. In addition, the mould can also act as a cradle to hold the ocarina while you work on delicate details without denting the body shape. Moulds are essential for the method of making ocarinas described here and, if you want to follow it in practice, it will be assumed you already have made a mould for yourself.
Anyway, let's get on shall we? Here is a list of some basic tools you will need:
-Plaster mould
-Clay (earthenware or stoneware)
-Clay slip
-Slot stick
-Needle tool (and a hooked needle tool if you can get one)
-Drill bits
-Handled wire
-Rubber kidney (i don't use mine all that much anymore but they are extremely useful)
-Sponge
-Small loop tool
-Sharp pottery knives (i have two different fettling knives)
-Scoring tool
-Rolling pin
-Dowels
-Drawing compass
-Brush
First and foremost, you need to wedge your clay in order to get rid of any air bubbles that may reside in it. If you do not know how to wedge clay, please read the tutorial Wedging Clay.
Once your ball of clay is completely wedged, place your dowels thus and roll the clay between them with the rolling pin. The dowels control the thickness of the clay so it is completely uniform.
Once it is completely rolled out, cut the clay diagonally in two with a sharp knife.
Now with you need to carefully drape each piece over the mould halves, and very gently press the clay to the sides of the mould.
Once you are sure the clay has been placed correctly, grab your handled wire and cut the excess sticking out from the top of the mould halves.
Next, put aside the top half of the mould and concentrate on the bottom half of the mould for now (the voicing side). I very gently lift this half of the body out of the mould briefly to just cut the excess off the sides of the mouthpiece - you don't have to, but i find it is vital for the next few steps.
Using a plastic template i made myself, i can easily replicate accurate alignment for the windway channel, edge and voicing hole. To make one yourself, all you need is an A4 plastic envelope and a marker pen. Simply trace the ocarina shape from the mould with a marker pen, then all other details such as the voicing hole placement can be marked as well (ideally in a different colour).
With the template in situ, use a needle tool to first mark where the windway meets the interior body.
Then, using a lump of fresh clay, fill in the windway, using pressure from your thumbs to make sure no air is trapped in between.
Next, after using the template again to check the alignment of the windway, place your slot stick on top of the windway and trace either side of the stick with a needle tool.
Using a sharp knife, cut along through these parallel lines, making sure to cut deep towards the body and gradually shallower as you pull the knife to the other end of the windway. Make sure you do not cut too deep!
Now all you need to do is dig underneath these lines. Personally, i use a former slot stick (which has been modified to be very thin and very sharp) to dig under and between these two guidelines until i reach the end of the windway.
Very carefully remove the wedge you have just dug out and put it aside ready to replace later. The cuts made before with the knife aids in the removal of the wedge without having to pull on the clay.
Using a piece of wood with the exact width of the slot stick, press down on the windway to make sure it is completely flat and even.
Now you can drill a basic voicing hole - i find it is always a good idea to drill a smaller hole at this stage and to drill the proper size much later, but it is up to you. The depth of the windway exit can be altered by either adding clay or digging with the old slot stick again - i find a good depth is around 3mm - 4mm. But whatever your desired depth, always make sure your windway is flattened down with the piece of wood - you don't want an uneven or wonky windway!
Now your windway is formed, you want to score the sides of the channel and the sides of your clay wedge with your scoring tool. Then you want to slap some slip onto the windway edges with your brush. Make sure to place your slot stick in correctly and apply a bit more slip around it.
Place the clay wedge back into the windway channel and start blending it back into place. I apply a bit of pressure here with my thumbs and fingers in order to ensure a good bond, but be careful not to displace the slot stick by doing so. Make sure the clay is level with the mould surface as well, do not exceed the mould as this can cause pressure cracks inside the body later. Once you are done, the windway should look like you never dug into it at all.
Grab your trusty scoring tool again and start scoring the entire edge of this half of the ocarina. If you do not have a scoring tool, you can easily make one yourself by taping some cocktail sticks together, or you can simply use a knife or needle tool.
Once that is done, put the bottom half of the mould aside and get ready to start work on the top half of the mould.
Here i apply the same methods as i did for the bottom half, only this side is always much easier because there is no windway channel to worry about. So, using the template from before, mark the boundary of the windway.
Fill it with fresh clay, making sure to apply pressure as you do so and blend everything together.
Then of course you need to score the edges of this half.
Now you have both halves scored and ready, you need to paint a generous amount of slip to the edges. The slip acts like a glue which will stick the halves together, and the scored edges gives a keyed effect ensuring a stronger bond. Make sure your slip has a nice thick consistency, like cream. Slip is simply a mix of your clay and water, but for best results, crush up dried clay with a mortar and pestle and sprinkle the clay dust into water. Stir it and keep adding clay dust until you get a nice thick, smooth consistency. I've seen some people use slip that is barely slip at all - just bits of clay floating in murky water - please don't do that, it is lazy, and most of all, it won't work.
Once each half is covered, wrap a piece of cloth or paper towel around your index finger and run it along the inside edge of each ocarina half. This cleans away any excess slip that might build up inside the ocarina.
When you are ready, put the ocarina mould halves together! Press them down with gentle force, and once you are satisfied, leave the mould to sit for about an hour or so. Go have a cup of tea and relax for a little while!
After the time is up, carefully take the mould apart.
Now you will have to very gently and carefully remove the ocarina from the mould. Sometimes a pat on the back of the mould will free it, if not you will have to pry it out yourself - but be careful not to bend or dent it in any way! Once it is safely out, you can pinch off the worst of excess clay on the sides.
Get your small loop tool and slowly dig a shallow trench all around the seam of the ocarina where the two halves were joined. Be careful not to dig too deep, and make sure to keep a steady hand.
When you have gone all around the seam, get some fresh clay and roll it into a coil roughly the same width as the trench you just dug. You need to place this coil into the trench, making sure to press it in gently but firmly. It is fine to do this with small coils at a time, it would be silly to roll out one long coil.
Now you need to blend the fresh clay to the rest of the body until it is seamless. This is a trusted method used by sculptors to reattach their sculptures once they have been hollowed out for firing. I have found that it works wonders for ocarinas and i have always sealed the halves this way without any problems.
Once you have gone over the entire seam, get a damp sponge and go over the whole of the ocarina, paying extra attention to the now invisible seam, in order to pull all clay volumes together.
You shoud have a nice smooth, blended body.
Using a sharp knife, cut off the excess clay from the mouthpiece.
Next step is to mark the position of the fingerholes. Now, a lot of makers actually have these marks in their moulds so that the ocarina body exhibits fingerhole locations without any effort needed. This is a very good way to save yourself some time, and i intend to make my next mould exactly like that, but for now, i have to rely on a template i made myself which is placed over the ocarina. I have made tiny holes in the template through which i put a needle tool through to make the marks in the clay underneath (i only make a small, shallow mark in the clay, i do not go through the clay wall).
Once your fingerholes are marked, you can start using your drill bits to make the holes. I always drill rough, undersized holes at this stage which will be enlarged during tuning much later. Always aim for undersized (and therefore flat note) holes at this point. If you make them too big, it will be difficult to make them smaller later.
As an extra, i use a drawing compass to control the distance between fingerholes - you don't have to, but i find it helps ergonomics greatly. I basically set them to a specific distance apart and use the two points on the end to make marks in the clay. Then i can drill the next hole, and so on and so forth.
Keep going until you have all your basic front fingerholes drilled.
Turn the ocarina over and hold it as if you were about to play it, situating your thumbs where you find playing is most comfortable. Take your needle tool and carefully make a mark, one hand at a time of course, underneath the pads of your thumbs - this will be where you will drill the thumbholes.
Grab some drill bits (remember they should be undersized!) and proceed to drill the thumbholes.
While you are at it, you can also drill the voicing hole to your intended size now (remember to partially remove the slot stick first).
Push the slot stick back in so the stick covers the voicing hole, and get your very sharp knife to cut the ramp. With practice you will be able to do this in one or two scoops easily.
It doesn't matter what shape you make it into, just make sure you do not dig deeper than the voicing edge (this is why it is helpful to have the voicing covered by the slot stick so as to use the stick as a guide).
Lots of makers use all sorts of different voicing shapes according to the type of sound they want their ocarina to have. My particular preference is tear drop, so if you are also going for tear drop or even perhaps oblong, pay close attention to these next few steps. If you are going for circular, then ignore these next few stages. Anyway, to control the size of the tear drop shaped voicing, get a smaller drill bit and drill a new hole below the circular voicing hole just drilled.
Using a very sharp knife, cut the sides between in order to join these two holes together into a tear drop shape, simple as that.
Once your voicing is cut, it is a good idea to smooth down and refine your ramp. For this i use a plastic cake decorating tool.
Now, the basic elements of your ocarina are almost complete, all you need do now is clean up the surface and work on the voicing. Using the wet sponge again, go over the whole of the ocarina to smooth everything down. During this process, the fingerholes may get a bit clogged or distorted, so using the same size drill bits you used before, simply drill through the holes again and they will look crisp and new.
If you have a maker stamp like i do, now is a good time to apply it.
Lastly, you want to work on the voicing. Again, this is a stage that will differ from maker to maker, but the general idea is that you want to create a fine edged labium upon which the air stream is split. If you turn the ocarina so that the voicing side is facing upwards towards the light, you can look through the mouthpiece and view the voicing edge. At this point, you may only see a blunt edge with a tiny bit of light along the top (figure 1 in the diagram below). With a needle tool, you should aim to refine the top of the labium edge so that more light can be seen from this perspective - half light, half dark is a good starting point (as seen in figure 2). I use my hooked needle tool to do this as it is sharp enough to trim the top edge without pulling on the clay. As far as voicing construction is concerned these are the first basic steps to get you going (and the ocarina should make sound like this), however i strongly feel that the journey to finding your best technique for good sound should be your own - this is the best way to learn (it is the way i learnt) and you will gain a better understanding through experimenting yourself.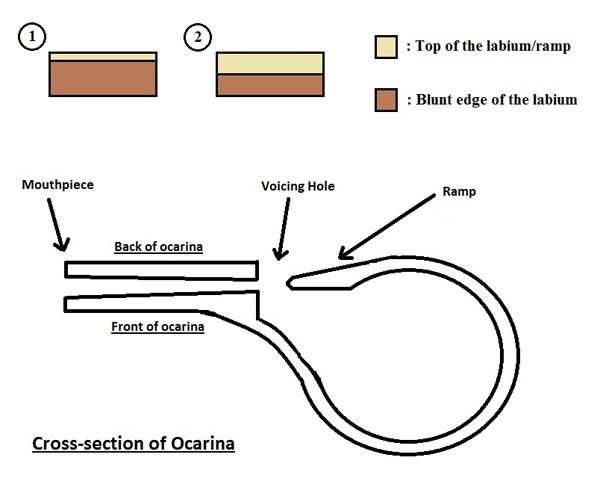 So, there you have it, an ocarina completed using a mould! Any questions, please feel free to ask away in a comment below or send me a PM. Tuning coming soon!