Wedging Clay
by Jade Everett
There are quite a few different methods of wedging clay, though some beginners to the world of ocarina making may not be aware of the importance of wedging clay before making an ocarina. The whole purpose of wedging is to get rid of any air bubbles trapped within the clay. If clay is not wedged properly before making an ocarina, trapped air in the clay body will expand during firing causing cracks, and in the worst case scenario, the ware will explode.
Wedging might seem very daunting to the beginner (i know it was for me when i first started ocarina making), but with a little practice you will soon start to get the hang of it. I had never been taught how to wedge, and everything i learnt was via watching pottery videos and reading pottery tips. I will teach you the easiest and most common method of wedging - The Ram's Head.
Make sure your have a clean, stable work surface and get your lump of fresh clay ready. Don't get a huge blob out, only enough to make your ocarina with - starting off small will help ease you into the process.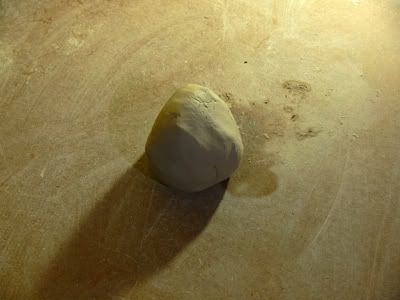 Situate your hands on the ball of clay so that you are supporting the top and the sides of it without holding tightly.
Then you need to push down and forward in one fluid motion, using the the heels of your hands to push and the rest of your hand to support (remember not to hold the clay too tight!).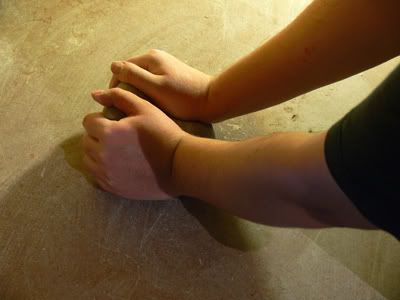 Your clay ball should now look like this - you can see how your hands have indented the shape. It looks like two huge eye sockets and a nose at the moment.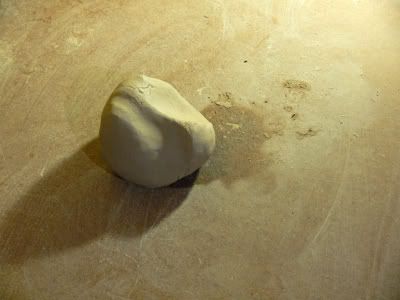 Roll the clay towards you very gently to stand on its nose. Obviously keep your hands in the same position, i let go of the clay here only so you can see how the clay should look between each movement, but you should always keep your hands on the clay.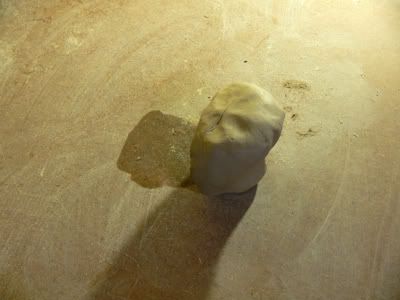 Now it is on its nose you need to push forward again as you did to begin with. Remember you must push down AND forward in one motion. Do not make the mistake of only pressing downwards, this will only create folds in the clay with trapped air in between, which you do not want. Do not be too forceful either, do not push so hard that the clay becomes thin under your hands. You are rolling and pushing the clay into itself, almost like a spiral.
If done correctly, your clay should now look something like this, almost as if it has a mouth now.
After that you need to roll it towards you on its nose again to repeat the process. As you work, the clay will look like this.
Once you have wedged numerous times, you will find no air bubbles when you cut the ball of clay in half.
Now i understand with things like this it is not so easy to learn just through pictures, oft times seeing wedging being done in action helps as well. So, i have posted a very short video on the Little Geese YouTube page just to quickly demonstrate Ram's Head wedging (apologies for the quality, i do not own a video camera), and i have also provided some useful video links you should also watch below.
http://www.youtube.com/watch?v=yUlWD3R3eE4
http://www.youtube.com/watch?v=WPXZbVdSgUI