*
Please note- I will be updating this thread periodically with additional images and information. Some items may be replaced without notice
*
please do not begin utilizing this tutorial until part 2 has been published.
This tutorial has been on my mind for a while so I figured its about time that I sit down and share the steps I use to make a plaster mold for ocarina making. Unfortunately, making a mold and taking pictures during the process is quite difficult to manage on my own so the images will be a touch scarce until I produce another mold. Please bear with me
In this tutorial we will be discussing a simple method for casting a basic 'Press mold', which is a negative of an ocarina dud's image used for pressing rolled or solid clay ocarina bodies.
I have tried various methods for mold making and joining of ocarina bodies in the past and have found that this particular method is ideal for my purposes. You may prefer a different technique so do not force yourself to adapt to any particular style until you have tried everything, or if you are comfortable with this method.
This particular mold method requires the use of a container so above all else, ensure that you are able to obtain a container that is large enough to accept the ocarina you are going to cast
Items you will need
-A plastic container. It must be a non porous material or the plaster will adhere to the container.
-Plaster (gypsum). pottery plaster #1 is ideal if you can get it because it is specifically formulated to be used in mold applications. how much you will need is dependent on the size of your ocarina and container.
-A scale for weighing the dry plaster. a decent kitchen scale will suffice.
-Measuring cups or similar device for measuring liquid.
-a bucket or similar container for mixing plaster
-access to running water
-a sharp, flat knife
-an ocarina 'dud'. this is the clay shape you sculpted in the form of an ocarina.
-rubber or latex gloves
-potters wire/jigsaw/bow harp for cutting the clay dud
-additional moist clay.
For the following, I will be using a dud crafted to produce an Alto C ocarina. All weights and measurements are associated with the corresponding dud and container but you will be able to estimate similarly for your own casting experience.
Step 1- preparation
First, you will need a clay ocarina dud. Without one you will not be able to make this mold. This will be what all of your ocarinas will look like when using the mold. I have here an Alto C dud that I made.
You will want your dud to be rather firm. DO NOT let your dud dry completely for this method as the plaster will adhere to the dry clay and will ruin both the mold and the plaster. it is best to let the dud get as firm as possible without showing signs of drying.
We will need to cut this dud in half in order to cast the mold properly. This is not an easy task. A bad enough mistake can ruin all the hard work you put into sculpting your dud so it is imperative that you spend some time being patient and deliberate with your movements. I find it makes things a little easier to draw a guideline around the dud for where you wish to cut. Try visualizing how the ocarina body will look inside the mold as angles for setting the windway will be altered by the location of the cross section you are making.
Once the line is drawn, we may start cutting into the dud. I will be using a jig saw for this mold as they are quite easy to find in the united states. Start slowly in the difficult areas such as the mouthpiece and tip of the nose of the ocarina.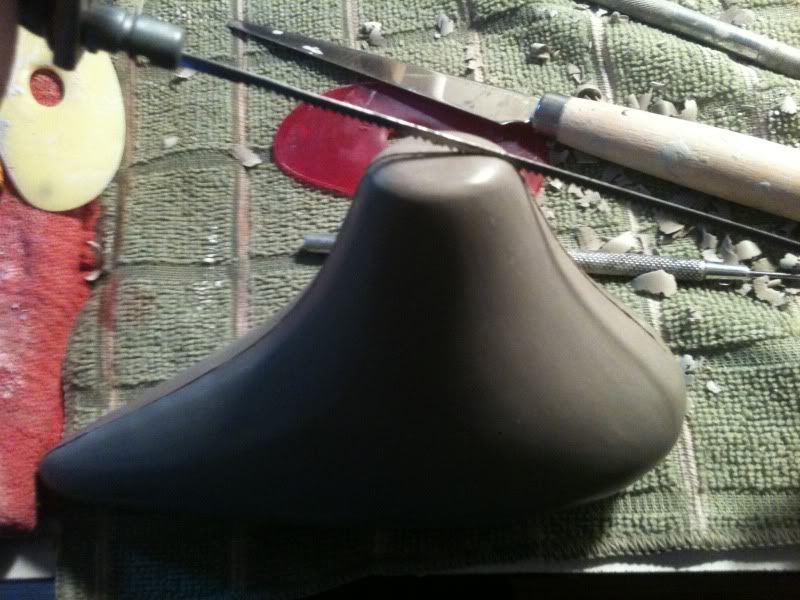 At the nose, I use an exact-o knife to make a 'safe' cut for that sensitive area. The jig saw would likely remove too much material and if that occurs, it may affect how the mold will look and sound when utilized.
Play it safe and cut slowly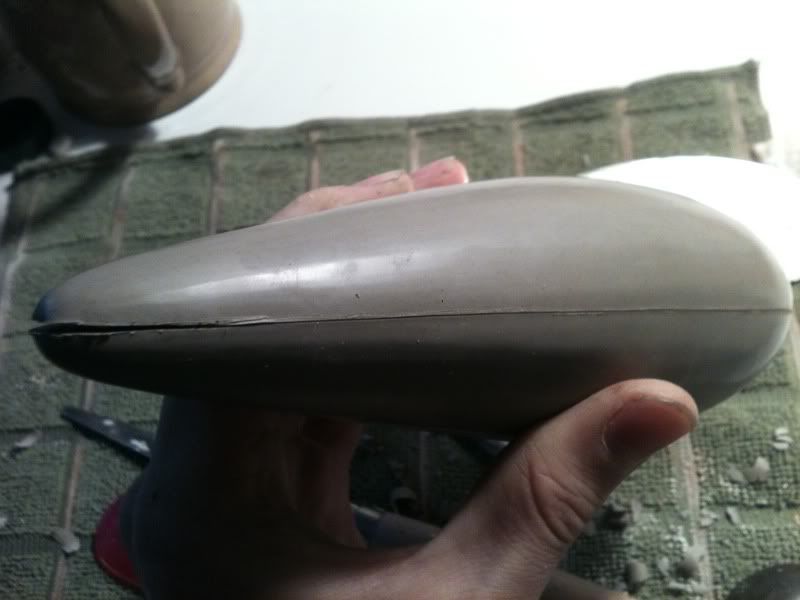 Once you have cut through the body, you will have two halves.
I usually start casting first with the half that will house the windway and voicing.
So pick a half. you will notice that, if you used a jigsaw or were a bit rough with your cutting, the underside of the dud half will be uneven, or rough, which is not good for what we will be doing.
here is an example of one such rough edge
There is a way to circumvent this though. Grab a very small amount of clay. Roll it into tiny strings approximately 3 to 4 millimeters thick and as long as you can.
we will outline the underside of the dud half's outermost edge with these strings. Wet them a little so they will stick. Outline the entire body and make sure there are no gaps for plaster to get into. If there is a gap, the plaster may seep underneath the dud.
When you have finished, take your container and carefully determine where you wish to place the dud half in it. the goal is to make the plaster thick as possible around the ocarina body. This will ensure an even absorption rate when making ocarinas later. If you container is just slightly too small and your ocarina must come in contact with an edge, try to make only the mouthpiece contact the outer most edge if you can.
Then, gently press the half into the container. If your container is clear, you can look underneath the container up at the dud half's underside to see if the clay strips have squeezed against the floor of the container. This will show you if there are any gaps present in the line. If there are, use one hand to hold the dud in place while you try pressing the edges of clay from the underside of the container up toward the dud
this is what my result looked like. Now we are ready to start mixing and pouring plaster.
*Part 2 coming soon*