Glazing can be a daunting task to those just starting out with ceramic work.
It takes a certain aquired 'feel' to know when youve applied just the right amount of glaze to get the sort of effect youre looking for and you might be worried youve applied too much or too little. For the hours youve spent working on the instrument, the last thing you would want is to have it looking like a burnt rock (or maybe you do, who knows?).
While I personally prefer brush-coating ocarinas with glaze for its varied effects, there are a few other methods of doing so. Kalasinar so perfectly covered brushing techniques and sponging in her tutorial Glazing Ocarinas, Part One: Glazing Basics so I will cover in this article the basics of glaze dipping.
Dipping ceramics in glaze is an industry standard for commerical potters as it is fast, predictable and over all less expensive if you are working with a high volume output of product. Glaze formulated specifically for dipping can be purchased by the gallon. Most commercially available brush glazes are cross compatible with dipping as well so read the lable first and you needent worry.
Though ocarinas are not typically made in this fashion, it is still a useful tool for those who might be concerned with unevenness or unpredictable outcomes when they are just starting out. One singular coat of glaze from dipping is all that is needed.
What you will need
-A pint of glaze (remember, stoneware gets stoneware glaze. earthenware gets earthenware glaze. no exceptions)
-some fresh clay
-a basin or tub large enough to hold a pint of liquid and deep enough to accept one half of your ocarina
-a small paintbrush
-your bisque fired ocarina
-a plastic bag to catch any dripping that might occur
-rubber gloves
-a wire or hook to hold the ocarina from
1)prepare the work environment
make sure the surface you are working on is clean and protected from spills of any kind. If you are nervous about messes, you can do this in the kitchen sink if it is large enough, heck, even the bathtub.
So first, take your basin and inspect thuroughly that it is clean. Minerals and left over matter can effect a glazes appearence so you must ensure that it is clean first before you pour glaze into it.
Now, shake and stir your pint of glaze for a little while, then pour it gently into the basin.
it should look something like this.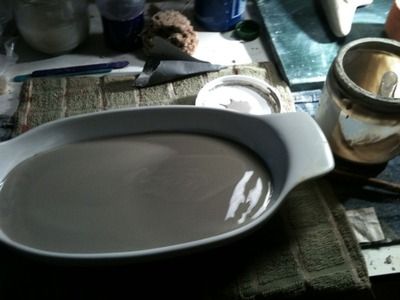 2)prepare your ocarina for dipping
Now, before you start glazing your ocarina there are a few things you must do.
The first step is to rinse your ocarina very thoroughly in warm water. This will remove any dust and trace particles that could react with the glaze you are using AND it will cause the bisque to become 'thirsty' which will ensure proper uniform glaze adhesion. However, after rinsing, let your bisque stand in a well ventilated area for about 10 minutes.
Too much moisture in the bisque will prevent the glaze from sticking. This is called 'over-saturation'
After some time has passed, touch the ocarina to your cheek. If it is really cold, wait some more time. This means there is still too much water in the clay. If it is close to room temperature, youre good to go.
Now, grab some clay and roll it into as many little balls as you can. The goal is to use each little ball as a plug for finger holes, voicing holes and the windway. For now, leave the thumb holes open. youll need them in a bit. Make sure that each ball of clay creates a good seal around the fingerhole edge. If the clay is having trouble adhering, wet it a little and it will stick. Do not push too hard in the center or the clay will fall into the body.
You will also need to plug the windway and voicing holes but try to be delicate. do not push clay into the windway exit! I usually use one large bit of clay that can cover the whole voicing area and ramp without needing to be pressed in too hard. Later you can just paint that area by hand.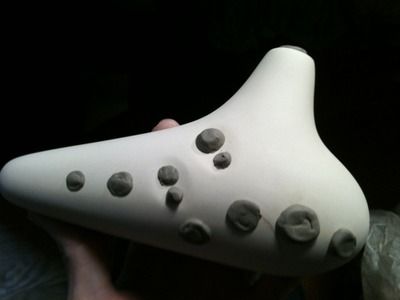 3)Dipping the ocarina in glaze
Heres the fun part! Turn your ocarina so that its top is facing down. hook your fingers into the thumbholes so that your hands will be acting like a sort of crane. Now, gently lower the ocarina into the glaze 'face first'. You will want it to cover the whole top half of the ocarina but leave the back blank for now.
You need only dip it long enough for the glaze to catch onto the ocarina, which is almost instantaneous. Wait a few seconds if you want before removing it from the glaze.
now, rotate the ocarina slightly to make sure there is no dripping on the surface. you want the surface to be as uniform as possible for the best effects.
Gently shake off any excess glaze.
it will look something like this:
Hang the ocarina by the thumbholes to dry for a little while.
After about 15 minutes, its time to do the bottom half.
put on your gloves.
remove the top half finger hole plugs. there will be spots were the glaze did not adhear due to the clay covering it. We'll worry about those later. for now, plug the thumb holes on the back and get that wire or hook out again. Feed the wire or hook into the top finger holes for support.
We're going to do the same thing we did on top for the bottom now. Be gentle though as dried glaze is quite brittle and will flake off.
gently lower the ocarina into the glaze.
Make absolutely certain your new coat DOES NOT overlap the edge of the first coat. This will cause an obvious line to appear during firing and no one wants that. Try to make each half as even and seamless as possible.
Once that is done, hang it to dry once more.
4)cleaning up the ocarina's surface
Now that your ocarina is dry and the plugs are all removed, we need to touch up the areas that glaze did not get onto.
Use your paintbrush and apply three even coats to the bare areas. With any luck, you kept the clay interaction with the ocarina body as minimal as possible so there will only be a slight ring around the holes.
Touch up every hole and again, leave it to dry.
In the end, your ocarina will look something like this: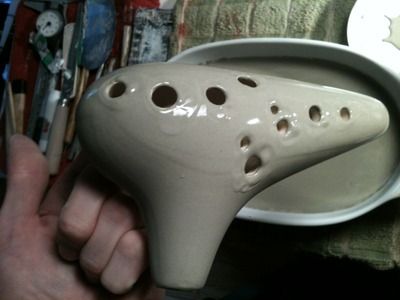 hopefully you will have done a better job than I, but you get the idea.
Now that your ocarina is ready, its best to wait a day for moisture to leave the ocarina completely. Then you can go ahead and fire it and end up with even, consistant results each time.
For this particular ocarina and glaze, it will yeild this-
I hope this will be of some help and If you would like me to elaborate on any details I may have forgotten to, please dont hesitate to ask.