Glazing Ocarinas, Part Two: Stilting Methods and Firing
by Jade Everett
Okay, so you have your glazed ocarinas dry and ready to go, but you must take extra care with how they are loaded into your kiln for firing. I am not going to go through instructions on how to use a kiln, because if you have a kiln yourself, you should already know very well how to use it. One thing i will re-iterate from Part One is to MAKE SURE YOU KILN WASH YOUR SHELVES. This is absolutely vital, if you do not coat your shelves with batt wash, you will be very sorry later if anything goes wrong (and when it comes to firing, anything can go wrong no matter how many precautions you take!). Always better to be safe than sorry, please please please take this advice to heart, i am not responsible for any accidents you may have if you choose not to follow my warnings.
Anyway, you've got your kiln and your kiln-washed shelves ready, and make sure you have suitable shelf posts too if your kiln can take more than one shelf. Now you just need something to stand your ocarinas up on because you cannot leave them laying flat on the kiln floor or on a shelf - the glaze will run onto the surface and fuse to it, ruining your ocarina and your kiln shelf/floor.
I'm sure you've probably seen these metal pointed stilts and ceramic stilts on many ceramic suppliers' websites. They are the most common stilts available and they come in all sorts of sizes.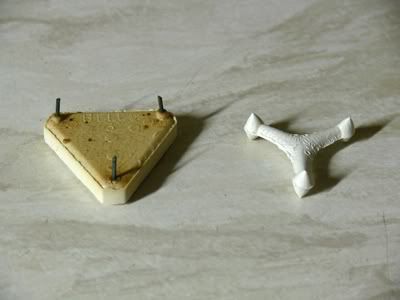 While they are cheap, and do what they are supposed to by keeping the ocarina suspended above the kiln shelf, I DO NOT RECOMMEND YOU USE THESE AT ALL. At a push, i would say only use these as an absolute last resort if you cannot find anything better. I myself vowed from the beginning that i would not glaze my ocarinas at all if i could not find anything better than these stilts, but the choice is yours of course. There are a few ocarina makers out there who do use stilts, and there's no harm in them doing so (to each their own), but i personally would not use them. I only use them for small test pieces if i am experimenting a new glaze, in fact until now (for this tutorial) i have never used them for an ocarina.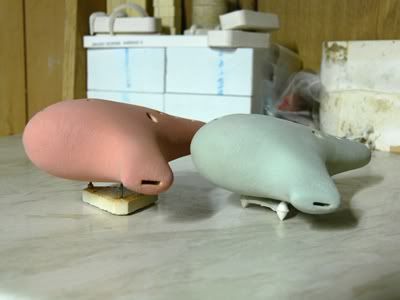 So, instead of these stilts i suggest a little creativity and ingenuity on your part. Research as many ceramics suppliers' websites that are available to you, particularly those that sell a lot of kiln furniture, and look for bead firing rods and firing blocks.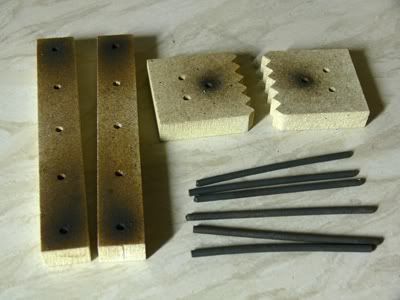 Now, when you find anything like these pictured above, you need to have a little imagination and decide whether such would be suitable for supporting your ocarinas. You also need to check their firing limitations, for example, my metal rods are rated up to Cone 10 while my firing blocks are rated up to Cone 7. You must make sure that whatever you pick out will fire at a higher temperature than what you fire at just to be safe - you do not want them to break down while holding your ocarinas during firing as it could mean disaster. My highest temperature is Cone 5, so my equipment is perfectly rated, make sure yours are too. Additionally, while this may seem obvious, make sure the rods will fit snugly into the holes of the firing blocks, for example, my rods are 4mm in diameter and the holes of my firing blocks are 4mm in diameter - you do not want a wobbly or insecure setup!
What you want to do with your gathered equipment is to put one rod through each of the firing blocks. Then you want to get two of these rod/block stands, set them side by side and place your glazed ocarina on the rods through the thumbholes.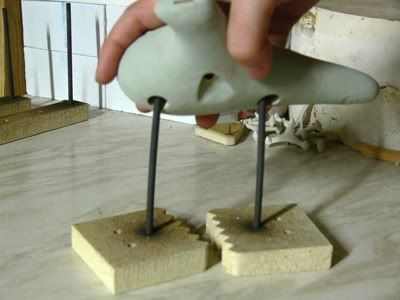 Settle the ocarina all the way down so the inner top side of the ocarina is resting on the two rods. Take extra care that the rods do not come up through any of the fingerholes, or even rest too close to the edge of them. Back in my early days of glaze firing i ended up with a rod fused through the E hole of an ocarina because i had neglected to check where the rods were situated. As the clay shrank during firing it trapped the rod. It took a lot of force to get it out and it ended up chipping away some glaze on the surface of the ocarina around the hole - do not make the same mistake i did! Also, try to make sure the rods underneath do not come in contact with the glaze around the rim of the thumbholes - otherwsie the glaze might run down the rod during firing leaving you with with a nasty sharp spike of glaze sticking out from your thumbholes. If situated correctly on the rods (it might take some moving around and lots of checking before it is absolutely right), the ocarina should come out perfect.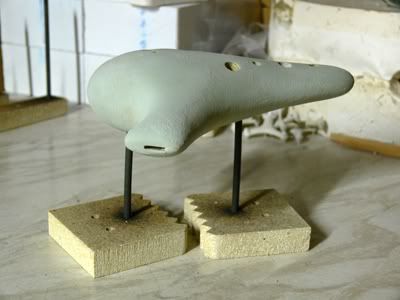 I tend to use my little square firing blocks now as they take up much less space in my kiln (allowing me to put more ocarinas in), however i used to use these straight blocks placed parallel to one another in a much similar fashion.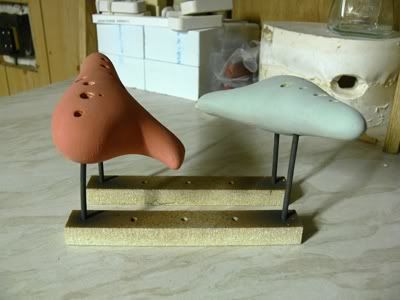 It might be a good idea to practice placing your ocarinas on your rod/block stands before putting them in your kiln so you get a general knack for getting them situated right each time - in time, it should come easily and won't take you so long to place them.
So, once you have your setup ready, it is time to place them in the kiln. You may notice i have a shelf on the bottom of my kiln - this helps protect the kiln floor and only takes up a small amount of vertical space, so it is very worth doing this (in fact, all kiln manufacturers recommend this). It is a good idea to make use of as much space as you can - here i am only firing four ocarinas, but usually i can get another two to four more ocarinas into the kiln for glaze firing. Make sure when you are setting up that the glazed ware does not touch the kiln walls, the furniture, other glazed ware or the thermocouple. Take extra care to keep glazed ware a good distance away from peepholes as well to avoid cool air warping or crazing the glaze during and after firing. Keep your ocarinas at least one inch away from the kiln wall, ideally use your shelf as a general guide and do not have ware exceeding the boundary of the shelf. If you are layering shelves into your kiln like me, make sure your posts are tall enough to keep about an inch of space between glazed ware underneath the next shelf being placed above it.
It is always good practice to put pyrometric cones in your kiln too, situated where you can see them through one of the peepholes of your kiln. If anything goes wrong during firing, cones are extremely useful for checking if the kiln is firing correctly to temperature or not. They are pretty cheap to find, i recommend the Orton self-standing cones if you can get them, unfortunately i cannot get them here so i use the standard ones in a cone holder. You want to have your target cone (for me, Cone 5) in the middle, and then your guard cones on either side (for me, Cone 4 and Cone 6). Here you will also see that i have not put an ocarina on a rod/block stand, normally i would, but to demonstrate stilt methods for this tutorial, i have put one on my metal pointed stilt.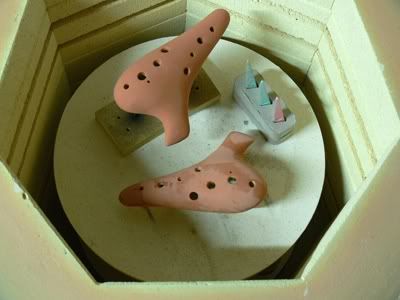 Prop the lid and start up your kiln ready to fire (the lid can be closed once water inversion is completed). You may have a manual dial or a programmer on your kiln, whichever you have make sure you are firing to the right cone/temperature for your clay and glaze. Some potters plan cooling segments to slow down cooling after the kiln has reached temperature, i personally haven't found that i need to, but it is worth researching yourself for the particular glaze you are using. Sometimes cooling can be vital. You can also choose to have a hold once the kiln reaches temperature, and this is something i highly recommend. I find that holding target temperature for about half an hour can help ensure the glaze settles evenly and clears up any imperfections that may have formed during firing. Once my kiln has finished firing i plug the peepholes up to slow down the rate of cooling and to prevent cold air hitting the glazed ware inside. You must let your kiln fully cool before opening it and removing ware - glazes will easily craze and crack if you do not wait, be patient!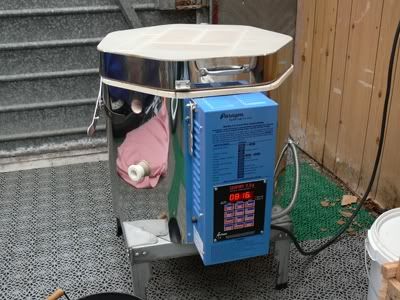 So, here we are, the kiln has fully cooled down and i have opened the kiln up ready to be emptied. Opening a kiln is like Christmas morning, although remember, sometimes you may be greeted with disappointment - glazing is not always predictable! As you can see, the cones have bent as they should and i can start carefully removing ware from the kiln.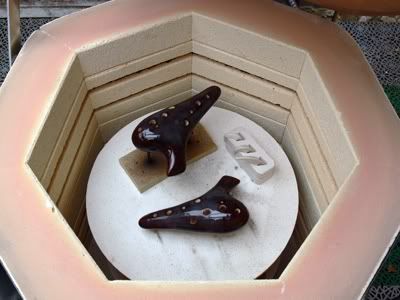 Not forgetting the ocarinas on the bottom shelf of course...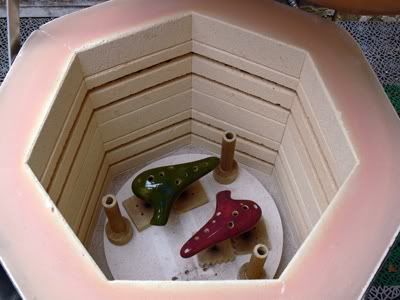 Now, let's have a look at the ocarina i put on a metal pointed stilt. As you can see, the metal points have stuck in the glaze, unlike my rod/block setup where the ocarinas can be simply lifted off hassle-free. With these stilts you have to very gently pry the ocarina off the metal points.
As you can see, there are tiny blobs of glaze still stuck to the metal points, and where the stilt stuck into the glaze on the ocarina, we are left with ugly little marks that are rough to the touch.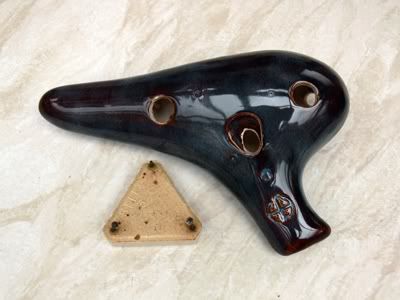 Such imperfections in a glaze are not nice, especially on an ocarina. Here it is compared to its companion in the kiln that was held on the rod/block stand (and thus blemish-free).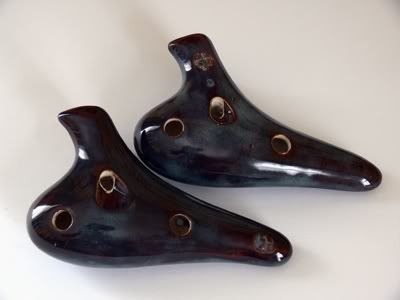 So there you have it, two methods of stilting ocarinas for glaze firing. While the block/rod setup is slightly more expensive and difficult to get hold of (depending on what is available to you), it is well worth it in the end when you see blemish-free results. Give it a try!