Glazing Ocarinas, Part One: Glazing Basics
by Jade Everett
Welcome to the unpredictable and exciting world of glazing! When i first started glazing ocarinas i had never been taught a thing about how to go about glazing ceramics. The general process does not deviate much from how a potter would glaze a pot, however i thought a basic tutorial might be useful for any beginners looking into glazing their own ocarinas.
First thing is first - glazes and clay. Before you buy any old glaze you stumble across you need to research the type of clay it is designed for (earthenware or stoneware) and within what temperatures it matures to. Ideally, the general rule is to match your glaze to your clay, so for example, if your clay matures between Cone 4 and Cone 6, then the glaze(s) you choose must mature between Cone 4 and Cone 6. Earthenware glazes cannot be used on stoneware clay, and likewise, stoneware glazes cannot be used on earthenware clay. It is absolutley imperative that you get this right first and foremost, otherwise you may be in for a big, nasty and expensive shock later on.
Right, so once you have chosen the correct glaze suited to your clay i recommend that you research what other artists have experienced with it. Even a quick google search of your chosen glaze should spring up plenty of results - i have found that many pottery artists keep blogs and record their experiences with glazes, and many a time i have found such information and tips invaluable. Even going to the glaze manufacturer's website can give you some useful information - tips, guidelines, warnings and techniques - make the most of every little bit of information you can find because it might save you some disappointment in the long term.
Also, make sure you know how to use your kiln properly. That may seem obvious and pointless of me to mention, but i mean it. MAKE ABSOLUTELY SURE THAT YOU KILN WASH YOUR SHELVES. If there are any accidents in the kiln during firing, kiln wash is your best friend - if you have properly coated your shelves and glaze drips or spits onto them, you can eaily scrape it off after cooling. If you neglect to kiln wash your expensive shelves, glaze drips will fuse to them.
Right okay, enough of that, onto the glazing! So, before you get started, here is a list of what you need:
- Some bisque-fired ocarinas.
- Wax Emulsion.
- Glaze(s).
- Pot of water.
- Brushes (i use Hake brushes).
- Two small brushes.
- Stirring sticks (i use bits of dowels).
- Needle tool.
- Cotton buds.
- Paper towels.
- Sponge (optional).
- Latex gloves (optional).
First off, you want to make sure that you keep glaze out of the fingerholes, and the way i prefer to keep those holes clean is to coat them with wax emulsion.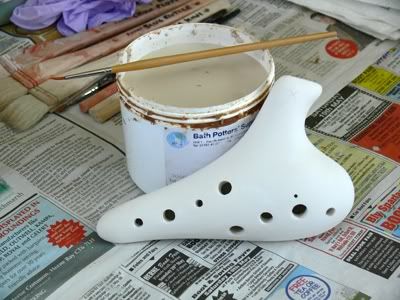 Using one small thin brush, i simply paint the wax emulsion around the inside rim of each of the fingerholes, being careful not to get any on the outside surface of the ocarina. The wax basically prevents any liquid glaze settling on the bisqued clay underneath - many potters use this to keep the bottom of pots glaze-free, so it stands to reason the same method can be applied to an ocarina's fingerholes.
You can also coat the exit of the windway if you so wish, and of course don't forget the thumbholes.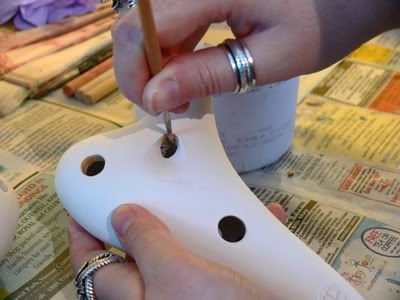 The wax emulsion dries pretty quickly, so once you have finished coating each ocarina's fingerholes, set them aside for a little while and they will be ready to glaze. Don't worry, the wax emulsion burns off entirely during firing, so you need not worry if it looks ugly or out of place, it will literally disappear.
Once the wax has dried, get a brush, a stirring stick and your other small brush (DO NOT use the one you used for the wax), and get ready to start glazing. At this point i recommend you put some latex gloves on. Glazes aren't bad for your skin (as far as i am aware) but your hands will get messy and i find it easier to just wipe excess glaze off my gloved hands with a wet paper towel. Make sure you have newspaper covering your work surface as well, i'm quite messy because i work quickly, and as a result i get a few glaze drips here and there - best to protect the surface you are working on from any stains.
Now these precautions are taken, make sure your glaze pot is properly sealed close and shake your glaze pot - hold the lid down just in case and don't be unnecessarily rough, you only need to make sure all the glaze is mixed up properly inside. Carefully open the pot and give the glaze a good stir with your stirring stick. Pick up your ocarina and get a good amount of glaze on your brush. What you want to do is spread the brush from nose to the end of the body (here i haven't done that but it is important that you do).
Then you need to move back to the nose-end of the ocarina and brush left to right again along the body of the ocarina where the clay is blank.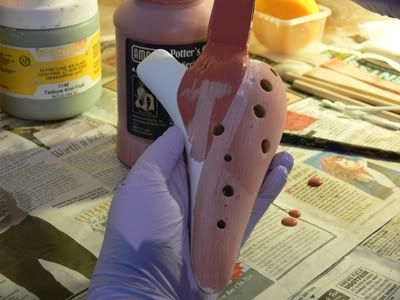 Keep doing this - left to right, left to right - until the whole of this side of the ocarina is covered in glaze. This is your first layer, be careful not to add more in random spots, because each glaze is different in how many layers it requires for certain effects. If you build up uneven layers you may get a shoddy looking ocarina and develop a bad habit of inconsistent results.
Set aside that ocarina for a few minutes and allow the glaze to dry. It is important you have patience here or you could ruin the work you just did. Anyway, the glaze colour will go a lighter shade once it is dry, so when it is ready you need to pick it up and turn it over ready to glaze the back. The same process follows here so it is pretty straightforward, brush from one end of the ocarina to the other end, left to right, being careful not to go over areas you have already done - remember this is the first layer!
As you work, you may find that like me, the voicing ramp and any other details like a stamp, stay untouched during this initial layer. This is where our spare small brush comes in - simply get a little bit of glaze on the brush and carefully fill in the areas as yet unglazed. With a stamp detail, i just swirl the brush around it quickly as too much glaze will obscure the stamp's detail after firing.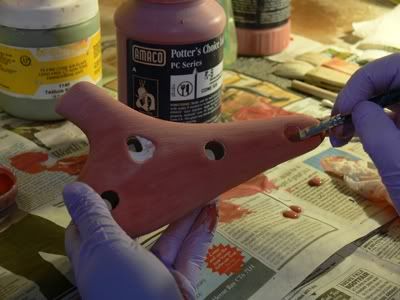 Then in the same fashion, you want to very carefully paint some glaze on the voicing ramp. Again do not apply the glaze too thick here.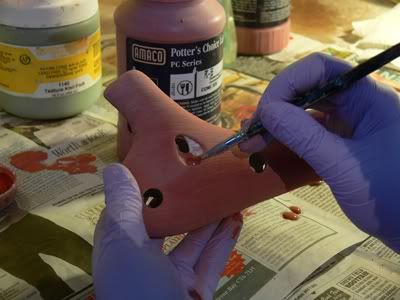 Once you are done with that, set it aside to dry again ready for the next layer!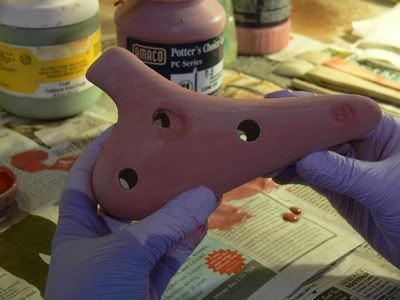 Your second layer will apply the same methods as the first layer, however you will be brushing in a completely different direction (at a right angle to the first to be precise). The reason for this is to help eliminate brush strokes in your final glazed piece. So, using the same technique and adding a nice even coat, pick up your ocarina and hold it ninety degrees counter-clockwise to how you held it for the first layer. Load up your brush with glaze and brush left to right from the mouthpiece and down the body.
Keep doing this until this side of the ocarina is properly and evenly covered with this second layer. Set is aside to dry, and once it is ready, turn it over and glaze the other side in the same manner.
Each glaze layer must be applied in a different direction to the previous. You don't need to brush in crazy directions, i usually alternate between the two directions described here. Each glaze has a different recommended number of layers to achieve best results, so you need to pay attention to the label of your glaze, and just as importantly, what the manufacturers recommend on their websites. This is why i find it so important to research your glaze thoroughly before using it - i have found from experience that a few of my glazes required a completely different number of layers than what was recommended on the label. Of course, you will also find through experimenting that what constitutes a heavy or a light coat is very subjective, but given plenty of practice you should develop a knack for getting your desired outcome. For this ocarina i have been glazing here, i generally give it three even coats - some glazes require less, others require more.
Once you have finished glazing your ocarina, you just need to do a little clean up in the fingerholes. For the most part, the wax keeps major glaze run-off from touching the inner rim, but you may find some glaze build-up around the outer surface of the fingerholes. To get rid of the excess, simply grab a spare needle tool and firmly run it around the rim of each hole - the excess will crumble and you can wipe the bits away.
Next, you might find little blobs of glaze inside the fingerholes here and there sitting on top of the wax resist. While it won't settle on the clay itself at this stage, once it is put in the kiln and the wax begins to burn away, it may stain the clay left bare underneath, so best to get rid of it now. Grab your cotton buds, dip the tips in your pot of water, and run them aroud the inside of the affected holes similar to how you painted the wax on in the beginning. This should get rid of those tiny blobs, leaving you with nice clean fingerholes.
Some glazes, especially artistic float glazes, generate different effects depending on how light or thick the layers are. I have found with a few of my glazes that i can get two or more different 'looks' just by varying layer number or layer thickness, and a sponge is extremely useful for keeping consistent light layers. So, applying the same methods we have used prior with the brush, i dip the sponge carefully in the glaze pot and sweep it from one end of the ocarina to the other, left to right, keeping in mind that this layer must be thin.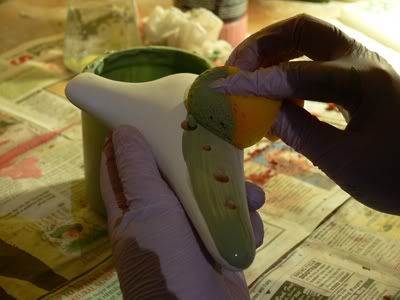 The sponge will soak up a lot of the glaze as you work, so be sure to squeeze it out sometimes rather than to keep dipping it in the pot - glazes are expensive so you don't want to waste any. Once the first layer is applied on one side of the ocarina, set it aside to dry, turn it over when it is ready and sponge the other side in the same way. I use the small brush again for painting stamp details and the ramp, but again, you only need a very small amount of glaze on the brush, don't overdo it.
Once the back is done, let it dry and then get started on your second layer, sweeping the sponge at a right angle to the first layer again, keeping an even coat all over. Keep going for however many layers required, for this glaze i sponge three layers and then add one more special layer.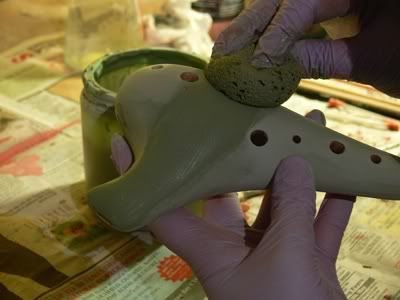 This glaze is called Texture Kiwi and it is an artistic float glaze. It varies very much in its final appearance after glazing and i have found that using a sponge is the best way to ensure i get my desired effect consistent each time. It took quite a bit of experimenting to figure out how many layers it needs without overdoing it, so i stress that you should never expect great results on your first try with any glaze. Often trial and error is the best learning method when it comes to glazes, so do not feel disheartened if a glaze doesn't work out first time round. Anyway, to create a little bit of difference in the glaze, i add a fourth uneven layer in the form of patches blotched randomly on the ocarina's surface. For this glaze in particular, it is more green on light coats, and more blue on heavy coats - by adding these patches, i should get some attractive blues coming through. I'd say this is worth trying out if you pick up any artistic float glazes, because you can achieve some really nice results - be creative!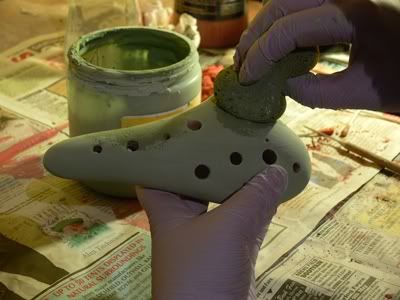 Once that layer is applied and the ocarina is dried i set all glazed ocarinas aside on a tray ready to go out to the kiln in the morning to fire.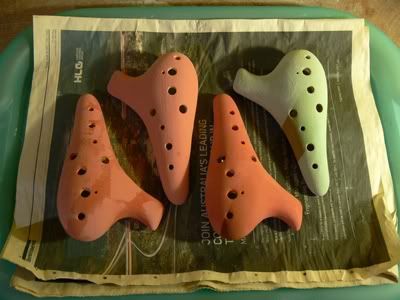 Proceed to Part Two for stilting glazed ocarinas and firing.